During their week at camp, 47 Guilford County kids heard the same question asked repeatedly: Where do you find hope?
"If you see hope, you're suppose to tell them and say: 'I saw hope at the high ropes course and someone was cheering me on,'" said eight-year-old Jemaya.
She and her fellow campers aren't your typical kids.
Life has forced them to grow up quicker than they should have.
Some are the children of murder victims. Some have witnessed domestic abuse. Others have been abused.
Camp HOPE America has given them permission to be a kid again, to overcome their fears and have a safe space to talk.
The camp matched them with friends who understand their traumas.
Smiles were plastered on faces all over Camp Weaver, which hosted Camp HOPE America this week.
"We have been doing so many amazing things," said 11-year-old Gracie, a rising sixth-grader. "Camp HOPE America has brought joy and happiness into my life."
Camp Hope America was created by Casey and Beth Gwinn in 2003 for children and teenagers from the San Diego Family Justice Center. The organization wanted to open an East Coast camp and partnered with the Guilford County Family Justice Center.
Tessa Wood, 19, who goes by the camp name, "Mocha," said she's been coming to Camp Weaver since she was five and was here this week as a counselor.
"A normal week at a camp is kind of just have fun, branch out and try new things," Wood said. "But at Camp HOPE America, it really helps the kids. They experience personal growth."
Catherine "Freebird" Johnson, the director of the Guilford County Family Justice Center, said the children don't have to talk about their traumas, but they are given a safe space to address it if they choose.
Johnson knows what the kids here have been through. Camp counselors aren't told their histories unless it's necessary.
Ronald "Swoosh" Rogers, 18, a rising senior at Piedmont Classical High School in Browns Summit, spent the past week volunteering at Camp HOPE America.
"I just feel like I'm giving all these kids the opportunity to forget about what's going on at home," Rogers said.
Rogers' mother, a Greensboro police captain, encouraged him to get involved. He was one of 10 high school students chosen to work at the camp out of 65 applicants.
"All my cabinmates and my counselors helped me learn more about myself," said Kysein "Splash" Wells, 12. "They showed me that even if I'm scared, I can still push through it."
He and Alfonso "Fonso", 11, became friends during the week.
"Camp HOPE America helped me a lot because when you're stressed out and you're having a bad day or something happens to you … all you have to do is tell somebody," Alfonso said.
Rogers said it's tough knowing what this group of kids has had to deal with. It's a life he doesn't know.
Like the campers, Rogers has fears of his own and was honest about them during camp. Like, he couldn't cross the ropes course because of his fear of heights.
That's a fear he shares with Gracie.
But she went from being scared to climbing the ropes course and swinging on a really high swing.
She also swam. Petted a snake. Rode a horse. And skateboarded.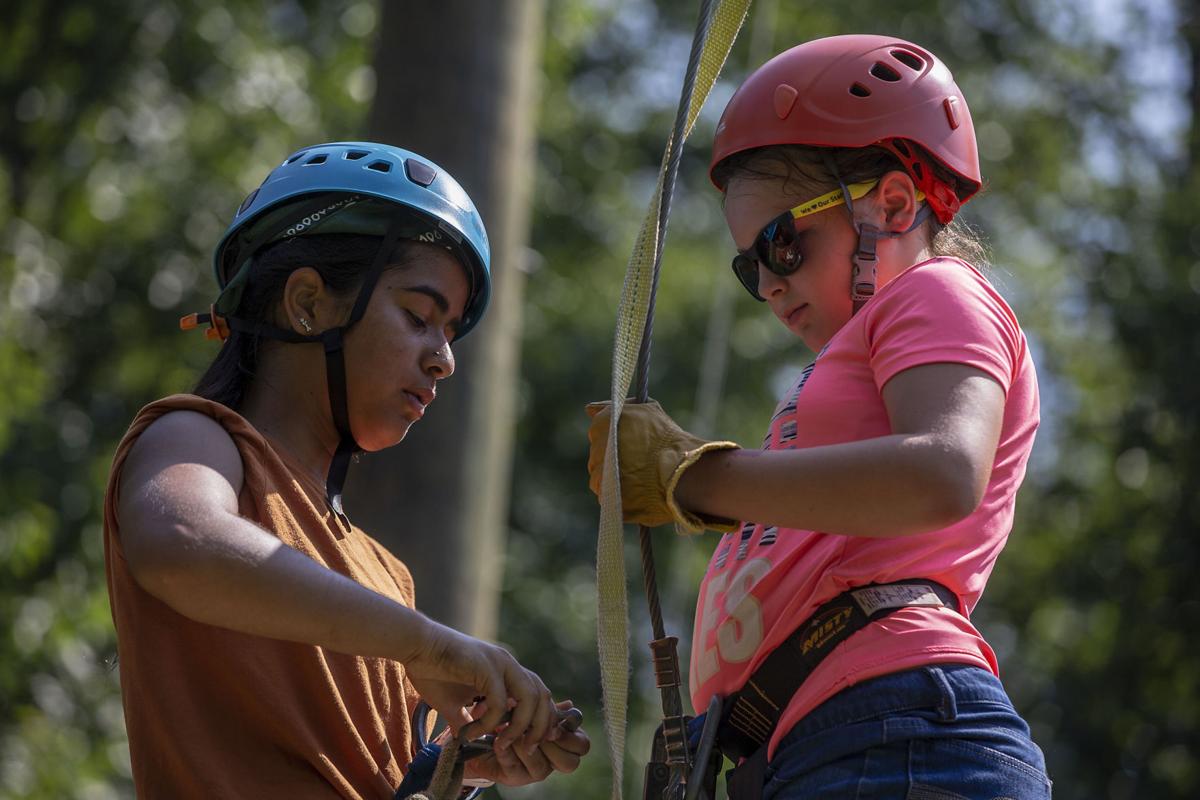 "All the counselors will talk to you about things," Gracie said. "If you feel sad or homesick, they'll talk to you about it."
Johnson said she watched Gracie have a powerful transformation at the camp last summer.
The kids talked about various lessons they learned over the past six days.
For Alfonso, he said he learned how to curb his temper during disagreements.
But the one message Johnson wanted to get across was about hope, and 8-year-old Kylee could articulate it well.
"Hope means to be kind to people and show respect," Kylee said, "and believing in yourself, others and your dreams."
Written by Danielle Battaglia, August 17, 2018
https://www.greensboro.com/news/local_news/for-kids-who-ve-suffered-trauma-there-s-a-place/article_431728bc-ad72-5ba8-98df-754a7674ecdd.html